As the world's economy was put on hold, the Latvian ICT sector, including LMT, was hard at work building the world's first contact tracing app pro-bono, built on the Google-Apple API.
The app, named Apturi Covid ("stop covid" – eng.), was made publicly available on May 29th, ahead of other country initiatives. This is what the world had to say about it.
Mobile contact tracing apps explained
As COVID-19 started to make its march around the globe, countries in all corners of the world started to focus on innovations that could help them limit the spread of the virus. Contact tracing apps were one of such innovations.
The idea of contact tracing apps is simple:
Installed on your smartphone, the app detects other mobile devices around it with the same app on them. In case a new COVID-19 case is discovered, users who've been in close contact with the infected person are notified and asked to self-isolate. The identity of the infected person remains anonymous, that way protecting users' privacy.
By using such apps society is free to move and, one can even say, live a normal life. At the same time, the spread of the virus can be controlled and significantly limited.
"In theory, such apps will assist in maintaining social distancing while people travel, as well as limiting the activity of those who may be carrying the virus." – Apple Insider
Apturi Covid – built on Google-Apple API, with ironclad privacy protection
Prior to Latvia, several other countries had developed and launched their official contact tracing apps. But the new Google-Apple API release opened up new possibilities for developers, and Latvia was one of the first countries to use them.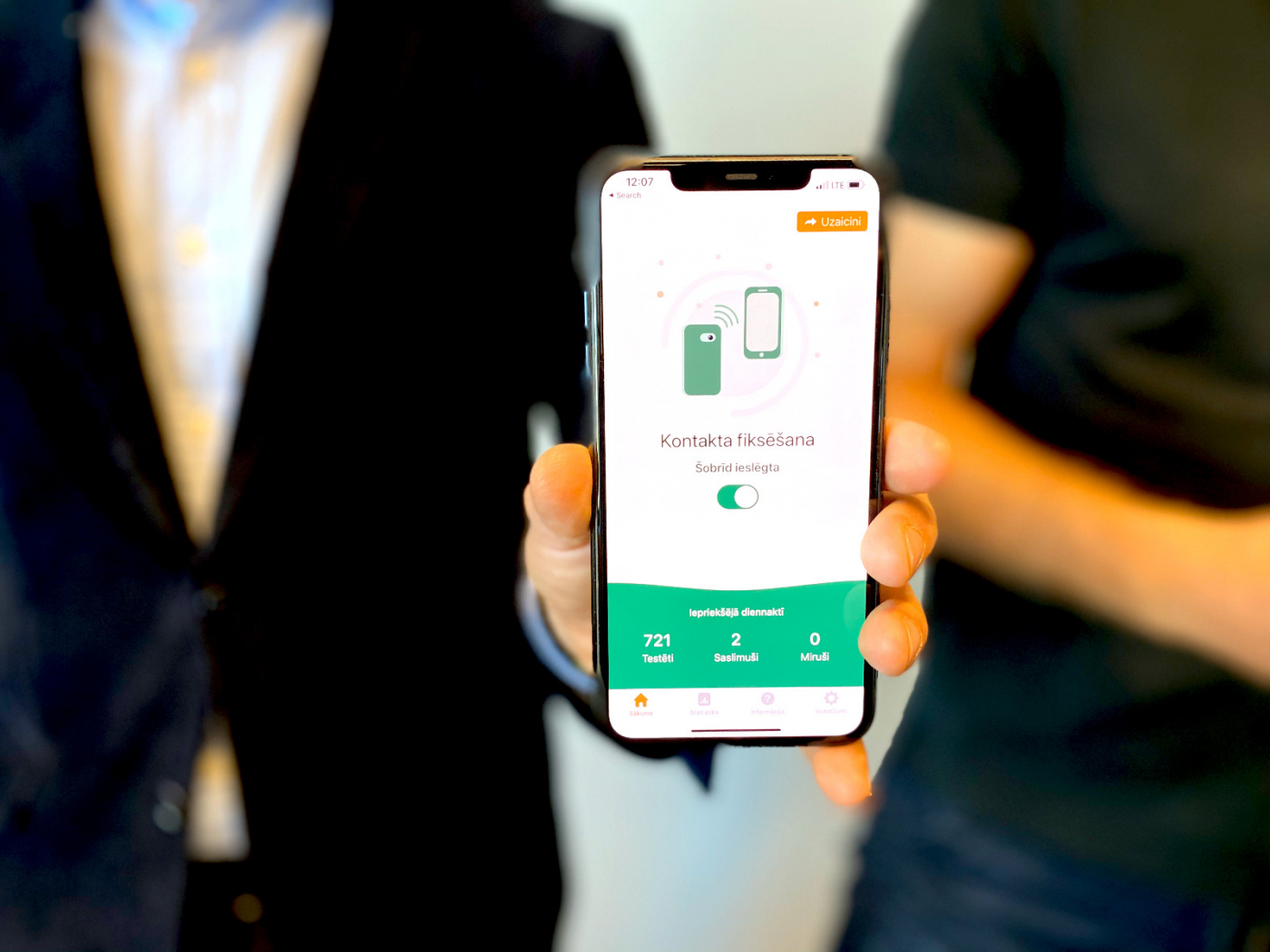 The new Google-Apple API enabled the use of Bluetooth technology and worked using a decentralized identifier system, providing users with an extra layer of privacy protection.
The Bluetooth technology allows Apturi Covid to detect other mobile devices that are in close proximity (approx. 2m) for at least 15 minutes. While the decentralized identifier system means that all data the app gathers is encrypted and stored directly on the user's device and is neither accessible to the phone owner nor other users of the app.
Currently, Apturi Covid is one of the most privacy-friendly applications of its kind:
●it doesn't gather users' GPS coordinates
●it's decentralized
●it stores data for 14 days and then automatically deletes them
●it only uses the users' contact information if a new case is detected
●it's fully GDPR compliant
"To make use of their API […] – a software tool that gives special access to some features of their iOS and Android mobile operating systems – [Google and Apple] have forbidden participants from gathering users' location data, among other restrictions." – BBC
Latvian contact tracing app is Apple-approved and recommended
The use of the app is completely voluntary, and there's a reason for it. "If the app is mandatory, people will definitely not use it," said Ingmars Pukis, vice-president of LMT, to The Associated Press.
The developers believe that it's the app's voluntary use in combination with reliance on the Google-Apple standard that will ensure widespread adoption. So far, so good – in the first week after its launch, Apturi Covid was downloaded by more than 50k people, including the President of Latvia Egils Levits.
I will use [the Apturi Covid app], I will know when I myself have been endangered, and I will not endanger others. I invite everyone to do the same!
Egils Levits, President of Latvia
"It is the single most popular app on the App Store. […] We were the first to launch such an app [and] it seems to be very popular. […]," Latvian Prime Minister Krišjānis Kariņš said in an interview with CNBC. Thanks to this initial popularity, it was featured on the App Store by Apple.
Apple has also distributed a public announcement, encouraging Latvian citizens to download and use the app. "All of us at Apple believe there has never been a more important moment to work together to help solve one of the world's most pressing problems – the spread of COVID-19," said in the statement.
Download the [Apturi Covid] app if you currently live in Latvia.
Apple
According to a study by Oxford University, even if only 20% of the country's population will use the app, it will have a positive impact.
Starting June 9th, Latvia has decided not to prolong the state of emergency. The country has also opened its borders and canceled or reduced a number of restrictions. However, this doesn't mean that the virus has been defeated.
"The fundamental challenge will be if the second wave comes," Ingmars Pukis said to Reuters. "We hope we will be ready with sufficient functionality and penetration to manage a future outbreak," he noted when commenting on the future significance of the Apturi Covid app.