In October 2022, LMT successfully piloted a drone across the continent during the final Comp4Drones demonstration in Spain. The drone was located in Latvia and piloted from the Rozas airport near Lugo – from a distance of over 3500 kilometers.
This demonstration, among other things, showed the role of mobile networks in enabling long-distance drone flights, as well as proved that cellular technologies could improve BVLOS flight safety.
Gints Jakovels, Innovation Lead at LMT and one of the coordinators of this demonstration, was a guest on the UAS Magazine podcast. Listen to his conversation with the host Danielle Piekarski and read the key takeaways from the conversation below.
This interview was edited for length and clarity.
Tell us about yourself and LMT as a company!
I'm the Innovation Lead at LMT, the largest mobile operator in Latvia. Our core business is, of course, related to voice and data services. But for the last few years, we're also working on different innovations like drones, military, smart cities, IoT, and so on. We're looking to diversify our business strategies and add new revenue streams, and drones are one of the innovations we're looking into and how we can be part of the game.
LMT recently successfully completed a cross-continent drone demonstration. Could you recap what this Comp4Drones demonstration was about?
This flight was conducted during the final demonstration of the European project called Comp4Drones, which aims to provide a framework for key technologies enabling safe autonomous drone flights. 
The aim of our demonstration was to test command and control functions for BVLOS drone flights using a cellular network as a communication channel. In this particular demonstration, the pilot was in Spain, whereas the drone itself was located in Latvia – 3500 km away.
But the distance was just one of the parameters in this chain of variables. The main idea was to demonstrate the possibility of piloting a drone located far away, using tools that allow the pilot to forecast cellular network coverage in the preflight phase and in real-time.
In the area where the flight was conducted, network coverage was not previously measured on-site. Instead, we relied on a fully remote network forecast. During the flight, we followed network parameters – network strengths, interference, and other network KPI parameters – in real time.
This demonstration was an attempt to show how cellular technologies can increase drone flight safety. It was also an attempt to explore future business possibilities for cellular network-connected drone technologies and for network infrastructure providers since drones will become new equipment to exploit this infrastructure.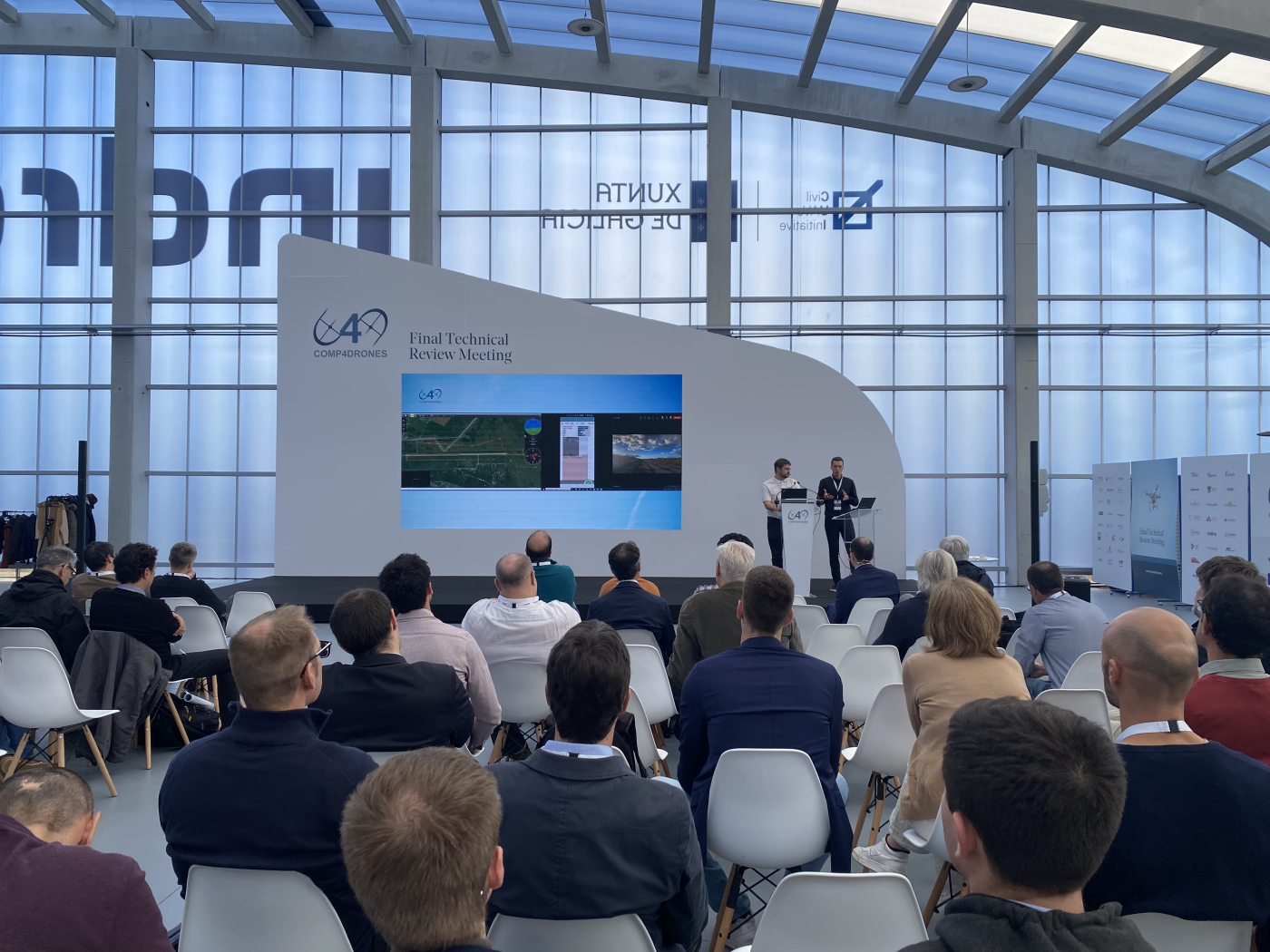 So, why would you say BVLOS flights and C2 links via cellular networks are so important for drone solutions?
To enable autonomous drone solutions and to scale drone usage for commercial purposes, drone operators and pilots need the possibility to do flights BVLOS. The challenge for authorities and regulatory bodies, however, is to find the right balance between safety and complex procedures and paperwork for drone operators. 
As a mobile operator, we see that cellular networks could facilitate and help enable safe BVLOS operations. 
If we look at preconditions for safe BVLOS flights, a significant one is that we need to be able to reach the drone at any phase of the flight. There are significant drawbacks to using unlicensed radio frequency technology as a communication link. 
One of the main drawbacks is unreliability. Unlicensed radio frequency spectrum, like WiFi, can be used by anyone and by many different technologies, and these links can therefore be disrupted by other devices on the spectrum.
Another drawback is performance. Unlicensed radio frequency solutions are limited to the line of sight range, meaning that drones must be within the line of sight of the ground antenna, which is usually placed within the line of sight of the pilot. This significantly limits the range of drone flights.
Cellular network-connected drones are able to use mobile networks with their high reliability, existing infrastructure, and wide coverage. This is a significant benefit – this allows drone piloting from and over long distances.
So, when you connect your drone to a cellular network, then the limit on how far it can operate will depend on the drone's endurance, not its radio frequency connection. So this is why it's important for BVLOS flights that command and control happen via cellular networks.
So, given those factors, how do you see the future role of mobile service providers?
Mobile operators will for sure be connectivity providers, but I think we could be more than that.
Mobile operators could tell drone pilots what would be the best height and route to ensure seamless connectivity for command and control; we could provide information on what connectivity is available on the planned route. We also could tell if there's any risk of losing connection and the strength of connection and where.
In addition to connectivity, mobile operators could also provide services like reliable drone identification and tracking information, which is important for enabling BVOS flights and integrating drones safely into common airspace.
There's a European regulation regarding used spaces, which requires that all parties that want to operate in the used airspace have some kind of remote network identification device on board. This is required so that it's possible to tell flyer ID, where the drone is located, and so on. According to this regulation, this should be done through a mobile network.
Mobile network operators can provide information about people density in certain areas to evaluate ground risks. It's a major thing to understand whether you'd be flying over a crowd of people or not because no one, of course, wants to harm people if there's an accident.
We can also provide meteorological information. We have the infrastructure – base stations – which can be upgraded with meteorological hardware, and then we can use the data to inform drone operators and pilots about weather conditions. This is crucial, as drone flights are currently very dependent on the weather – if there are strong winds, heavy rain, or snow, drone flights are impossible.
And finally, mobile operators' infrastructure could potentially be used as vertiports and parking stations. One of the key challenges for drone manufacturers is ensuring that their drones can fly long distances. Batteries need to be charged during the flights, and in the future, this could be done at our base stations. They're accessible all over the country, and since base stations run on electricity, the necessary infrastructure is already in place.
To sum up, technologies are evolving, and 5G is the next step towards enabling and scaling drone solutions. And mobile operators will provide this next-generation technology, so we have a crucial role to play in the future drone industry.
Sounds like a win-win. What would be the main takeaways from your research of cellular networks and connectivity availability in the VLL airspace?
Based on our network measurement campaign and the data we've gathered, we see that the existing network configuration would be sufficient to serve drone solutions already today. But that's because the number of drone flights carried out a day is currently not too large.
We also discovered that there are network parameters that are better in the air than they're on the ground, for example, network strength. In the air, there are fewer or no obstacles that could block the signal. 
For UAVs, it's important to choose the right altitude for the best cellular network reception. Based on the prediction models and on-site tests, we've concluded that the optimal height for UAVs is just above the obstacle level (trees, houses, etc.), considering the safety margin based on the UAV type, its mission, and flight conditions. 
Of course, further research is required. There are areas that we need to understand better, for example, high-altitude UAV interference with the cellular network. 
At higher altitudes, multiple base stations can receive the signal from the UAV, which may cause interference issues. Besides, our main customers are still terrestrial users, so we must be very careful with bringing new users, such as drone operators, to our network, as that could affect service quality for users on the ground. 
And finally, I'd also like to highlight that it is necessary to define what is a satisfactory level of KPIs that must be achieved in order to demonstrate that flights are safe and reliable.
Those are the key takeaways.